THERE ARE PESTICIDES—THEN THERE ARE NEONICS
At ChangeHampton we recommend that you avoid the use of any chemical fertilizers, pesticides, insecticides and herbicides on your yard or in public spaces.  This is to keep you, your loved ones, your pets, and the environment—especially birds and insects—healthy.  Those chemicals, aside from their toxicity on your lawn, leach into our ground water, drinking water and bays.
To learn more about how pesticides lead to human diseases see:  Beyond Pesticides.
WHAT ARE NEONICS?  Neonics, or Neonicotoids are neurotoxic insecticides. Since they were introduced into agricultural, home garden and commercial space use some 25 years ago, the bird and insect/pollinator population decline has rapidly accelerated.  Their effect on human health is serious.  They have been banned in Europe, parts of Canada, Maine and New Jersey.
Monumental bee die-off traced to the use of Neonic insecticides.  New York beekeepers have reported a 40% loss of their honeybee colonies on average every year over the past decade.  And honey bees are the "canaries in the coalmine" for thousands of other wild bee and pollinator species across the U.S., including the more than 400+ native bee species in New York alone.  A recent state report finds 40-60% of New York's wild pollinators are at risk of local extinction.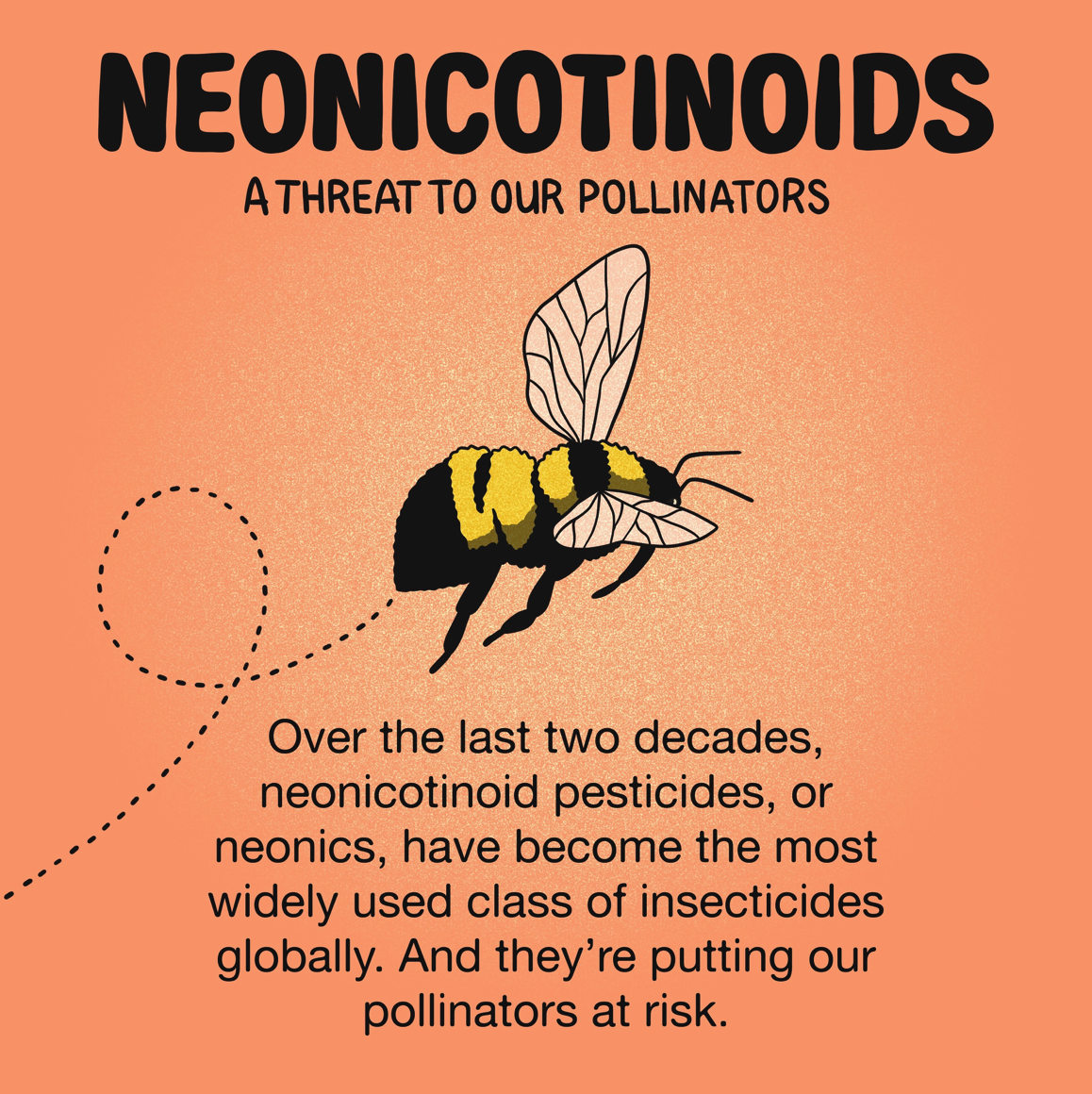 NEONICS ARE EVERYWHERE!  They contaminate our water and soil, harm our ecosystems, and are linked  to health concerns in people.  Neonics are designed to get into plant tissues to make the pollen, nectar, and other parts toxic to insects – so these pesticides cannot just be washed off fruits and vegetables before eating them.
70 TO 76 TONS OF NEONICS ARE USED IN NEW YORK STATE EACH YEAR!
Losing pollinators will also devastate ecosystems, since the vast majority of plants on the face of the earth require pollinators to reproduce.
Almost all corn seeds as well as most seeds for soybeans, wheat and canola, are coated in neonics.  Just one neonic treated corn seed can kill 250,000 bees.
"Seeds coated with neonicotinoid pesticides or neonics, sprout into crops laced with the chemicals, which shut down the nervous system of any insect munching on the plant. The chemicals make their way into nectar and pollen, which can dose bees with enough of the toxin to cause disorientation and a loss of ability to learn and communicate—crucial skills for a social insect." —The Washington Post
—Neonics persist in the soil for several years.
—Neonic residues often contaminate produce and baby food.
—Because neonics permeate foods, they cannot be washed off.
—Neonics travel easily in water.
—Conventional chlorination treatment does not remove neonics from contaminated drinking water.
A recent study showed that roughly 30% of Long Island groundwater samples contain neonics.
HUMAN HEALTH RISKS
Neonics could increase risk of malformations of the developing heart and brain in people, developmental or neurological damage, autism-like symptoms and other neurological and reproductive harms like decreased sperm, and change in fat metabolism.
Research published in Environmental Health Perspectives (January, 2023) finds the presence of nine various neonicotinoids or neonicsand six neonic metabolites within human cerebrospinal fluid. —reported in The Defender/Children's Health Defense
SO HOW DOES THIS AFFECT OUR POLLINATOR GARDENS?  Garden plants are often sprayed with Neonics before being delivered to stores or nurseries. Sometimes nurseries spray them before selling to customers.
Since Neonics permeate the whole plant:  leaves, roots, fruit, pollen and nectar, we at ChangeHampton are careful to order native and pollinator plants that have never been exposed to neonics in the early development of the seedlings.
READ LABELS CAREFULLY  Sometimes nurseries don't include what has been sprayed on the plant.  Some labels may contain names like this:  IMIDACLOPRID,  CLOTHIANIDIN, DONOTEFORAN, THIAMETHOXAM.  These are all Neonics.
Neonic-containing products have many trade names and come in many forms—from liquid to granules.  Hundreds of these products are for sale in the U.S.—Marathon, Aloft, Pon-cho, Green Light, Safari, Criterion, Merit and many, many more.
BE VOCAL.  BUY ORGANIC. NO NEONICS.
And you can call your New York state legislator to ask them to support and pass Bill S1856 The Birds and Bees Protection Act