BOARD
Stephan Van Dam, Board President, Co-Founder & Steering Committee member

Stephan is an award-winning cartographic designer, information architect and the publisher of New York based VanDam, Inc. which publishes physical and digital maps to more than one hundred global destinations. He mapped the Nature of Cuba as well produced educational pop-up guides to the rainforest, ocean and desert. Van Dam holds several patents in the field of paper engineering and origami map folding. Twenty-six of his maps are in the permanent Design Collection of the Museum of Modern Art (MoMA).
Van Dam has designed and produced mapping and way-finding programs for clients including American Express, The Walt Disney Company, Heritage Trails, the Metropolitan Museum of Art, Marvel Entertainment, the National Gallery of Art, The City of NY, 
the US National Park Service, Pfizer and the Smithsonian. He presented his 4DmApp "Understanding Maps" at the original TED Conference in 2002.
Sammys Beach has been his home for the last 35 years where he swims daily weather permitting. He designed the ChangeHampton website.
Kathleen A. Masters, Board Vice-President
Kathleen Masters is an attorney and non-profit professional. In her legal practice she represents non-profit agencies in New York City and the East End.  A full- time resident of East Hampton since 2013, Kathleen is an active member of Quail Hill Farm, and an oyster gardener in Acabonac Harbor. She previously served as Executive Director of the Amagansett Food Institute where she led the development of a food business incubator at Stony Brook Southampton College.
Prior to relocating to East Hampton, Kathleen had a career in non-profit management and legal services including serving as Executive Vice President and General Counsel to CAMBA, Inc, a Brooklyn based non-profit, Executive Director of CAMBA Legal Services, Inc and prior to that as the Attorney -in-charge of the Legal Aid Society's Brooklyn Civil Division office. She is a graduate of SUNY at Buffalo and the Boston University School of Law.
Gail Pellett, Board, Secretary–Treasurer, Co-Founder & Steering Committee member

A co-founder of ChangeHampton, Gail is an award-winning writer, director and producer of TV and radio docs for PBS, NPR, NBC, CBC, Pacifica Radio and WBCN (Boston).  One of her documentaries, Spirit and Nature (w/Bill Moyers, PBS-1991) queries how different world religions address the global ecological crisis, from a Native American elder to the Dalai Lama, a Muslim scholar, Protestant feminist, and Jewish rabbi.  Her articles have appeared in the Washington Post Magazine, Mother Jones, the Village Voice, New Age and webzines.
She published Forbidden Fruit in 2016, a memoir about working at Radio Beijing in 1980 China.  Recently her articles—including "Our Lawns Are Killing Us" (2021) have been published on Medium. She began her environmental activism in 1968 working at Barry Commoner's Environment Magazine in St Louis Missouri while at grad school. She has lived part-time in East Hampton for 35 years. In 2000 she was part of a neighborhood effort to restore the disrupted dunes of Sammys Beach in East Hampton.  She divides her time and activism between East Hampton and Oaxaca, Mexico.
ADVISORY BOARD
Karen DeFronzo
Karen Raffel DeFronzo lives in East Hampton.  She is a Teaching Assistant, in the Life Skills program, at East Hampton High School.  She has been working for the East Hampton School District for 20 years.  During this time, she has facilitated the school district's garden clubs and managed the school garden at John M. Marshall  Elementary School.  She currently oversees the school garden at East Hampton High School.
She has created pollinator gardens, using the lasagna method, at both schools. Karen has also served on the board of the East End chapter of Edible School Gardens.  Karen is passionate about gardening, teaching children how to grow their own food, and encouraging them to spend time outdoors to enjoy nature.  She also embraces the opportunity to teach her students mindfulness, in the classroom. When Karen is not gardening, she is hiking on the local trails.
Christine Ganitsch, MD, Advisory Board
I left the world of Obstetrics and Gynecology to retire to East Hampton 10 years ago, which had been my second home for many decades. I, as many, had been drawn to this unique area because of its inspiring and comforting natural beauty.  As resilient as most beautiful natural environments may be, they all have a tipping point in response to human activities.  In an attempt to preserve and protect the unique natural world which surrounds us, I find myself in the world of volunteering:
I am a member of the following Town of East Hampton committees:
Water Quality Technical Advisory Committee, Community Preservation Fund Advisory Board, Springs Citizens Advisory Committee, Litter Action Committee and I am currently Vice President and Secretary of the Accabonac Protection Committee.
Linda B. James, Advisory Board

Linda B. James, MPH, was the Garden Club of America's Conservation Vice Chair for Climate Change from 2009 – 2015.  She lectures and writes on raising public awareness of climate change and strategies to encourage actions  by local communities in addressing its impacts.
As a local EH Public Servant, she was appointed a member, and past Chair, of the East Hampton Town Energy Sustainability Committee ("ESC"). Currently she is working with Renewable Energy Long Island ("reLi") to accelerate the transition to 100% clean energy on Long Island.
Ken Maxwell, Advisory Board

Ken Maxwell is the owner and co-founder of Green Surf Landscape Design, a restorative landscape design firm focused on native plantings based in East Hampton, NY.  Prior to co-founding Green Surf with his wife Lucia in 2021, Ken was a Director and Advisory Board Member of Gagosian Gallery, NY where he worked with private and public art collections around the world.
An avid surfer who loves the ocean and the outdoors, Ken is a continued supporter of local and global environmental  initiatives to protect and preserve our planet.
Paul McIsaac, Advisory Board

Paul is a media activist who received his Masters Degree from the Institute for Social Ecology (ISE), founded by Murray Bookchin. Founded in the 70's the ISE continues to develop both theories and practical models for sustainable communities. Paul and his wife Ricki added solar to their house in Sagaponack more than a decade ago and are now in the process of transforming their property into a wilder, pollinator friendly habitat.
Alicia Whitaker, Advisory Board
Alicia Whitaker is an executive leadership coach and consultant who has
 worked to support her gardening habit for decades.  A home gardener and 
active participant in the East End gardening community, she is past
 president (2019-2021) and long-time board member of the Horticultural
 Alliance of the Hamptons, and a member of the Board of Directors of the
 Westhampton Garden Club where she serves as 1st Vice President and Chair of Horticulture.
She is also a member of the Pollinator Team responsible for a Pollinator
 Garden at the Quogue Library, now in its third year.  She was recently appointed to Suffolk County's Pollinator Pathways Task Force.  She is co-author, with Betsy Pinover Schiff, of "The Sidewalk Gardens of New York" (Monacelli Press, 2016).  Alicia became a Master Gardener in 2021 after completing a course offered by Cornell Cooperative Extension Service.  She holds a BA from the University of Massachusetts /Amherst and an MBA from Harvard Business School.
Roxanne Zimmer, Ph.D., Advisory Board
Roxanne Zimmer, Ph.D., enjoys spreading the word about best garden practices.  In her role at Cornell Cooperative Extension, Roxanne speaks to groups about why we should be rethinking lawns, planting natives, raising more vegetables and making compost.  The recently formed Suffolk Alliance for Pollinators grew out of her commitment to encourage homeowners to become better stewards of the long island of fertile soil we inhabit.  A lifelong teacher, Roxanne now has the privilege of training Master Gardeners to volunteer in towns across Suffolk County.  Master Gardeners promote food security through community gardens, teach youth about the magic of seeds in school gardens and design public demonstration gardens featuring native and drought tolerant plants.
As part of a delegation of Canadian farmers, Roxanne has examined food security in Cuba. This effort informed the global food course she offers at Stony Brook University.  She has presented at national conferences of the American Horticultural Society and the American Community Garden Association.  When not weeding, Roxanne can be found raising oysters with the Cornell Marine program.
STEERING COMMITTEE
Paul Gartside

I am a Canadian boat builder currently ship wrecked in the Hamptons.  I grew up in a boatyard in England and emigrated to Canada in 1983.  I lived for 25 years in British Columbia before moving to Nova Scotia in 2008.  In 2016 I became a permanent resident of the US and moved to East Hampton where I am raising my two adopted children.  A childhood in bucolic paradise on the River Fal in Cornwall left an indelible mark and has made me acutely aware of the fragility of the natural world.  I have felt that fragility in every place I have lived the last 60 years, no more so than here on the east end of Long Island where the pressure of rising population and over development is leading to the inevitable degradation of a very special place.   If I have optimism at all I find it in the work and efforts of organizations like ChangeHampton, in small groups of like-minded people with the wisdom to step back far enough to see the dire trajectory of the human experiment and envision alternative paths and ways of being.
Leonard Green, Co-Founder & Steering Committee member

Leonard Green, a co-founder of ChangeHampton, is a retired English professor. He has taught at private and public universities.  At CUNY's Kingsborough Community College, he served for many years as Director of Freshman English and Assistant Director of the Learning Center.  While at Cornell University, in addition to his full time teaching responsibilities, he worked with COSEP, now the Office of Academic Diversity, teaching a diverse student population in the special summer program.
Born on Long Island, Leonard comes from a family of farmers and gardeners.  His grandparents left their Virginia farm for Long Island during the Great Migration.  As a child, he helped maintain the family gardens.  He now lives in East Hampton, where he and his wife, Nancy, have converted most of their property to native woodland, mixed meadow, and native gardens.  As an activist, he helped establish the Friends of Sammy's Beach, a community group that campaigned for the full restoration of a native plant community destroyed by a misguided dredging project in East Hampton.  He is a, a member of The East Hampton Energy and Sustainability Committee, co-chair of ReWild LI's eastern chapter, and a member of the ReWild LI board.
Paul J. Muñoz, Steering Committee
Paul holds a degree in Mechanical Engineering from SUNY Binghamton and in 2017 founded Eco Harmony Inc., a company that offers quiet, organic, and sustainable solutions for property care.  Paul is a NOFA Accredited Organic Land Care Professional who is passionate about promoting and enhancing biodiversity, biological cycles, and soil biological activity through the careful and minimal use of off-site inputs.
His company uses practices that restore, maintain, and enhance the ecological harmony and beauty of the East End.  In 2016 his passion for building equity, respect, justice, and stewardship of our shared planet led him to the Energy & Sustainability Committee for the Town of East Hampton, which he now chairs.  Paul is a longtime Springs resident who enjoys hiking and kayaking with his rescue dog Maya.
"What WE do makes a difference, and We as individuals have to decide what kind of difference we want to make." – Jane Goodall
MENTOR SUPREME FOR ChangeHampton!
Edwina von Gal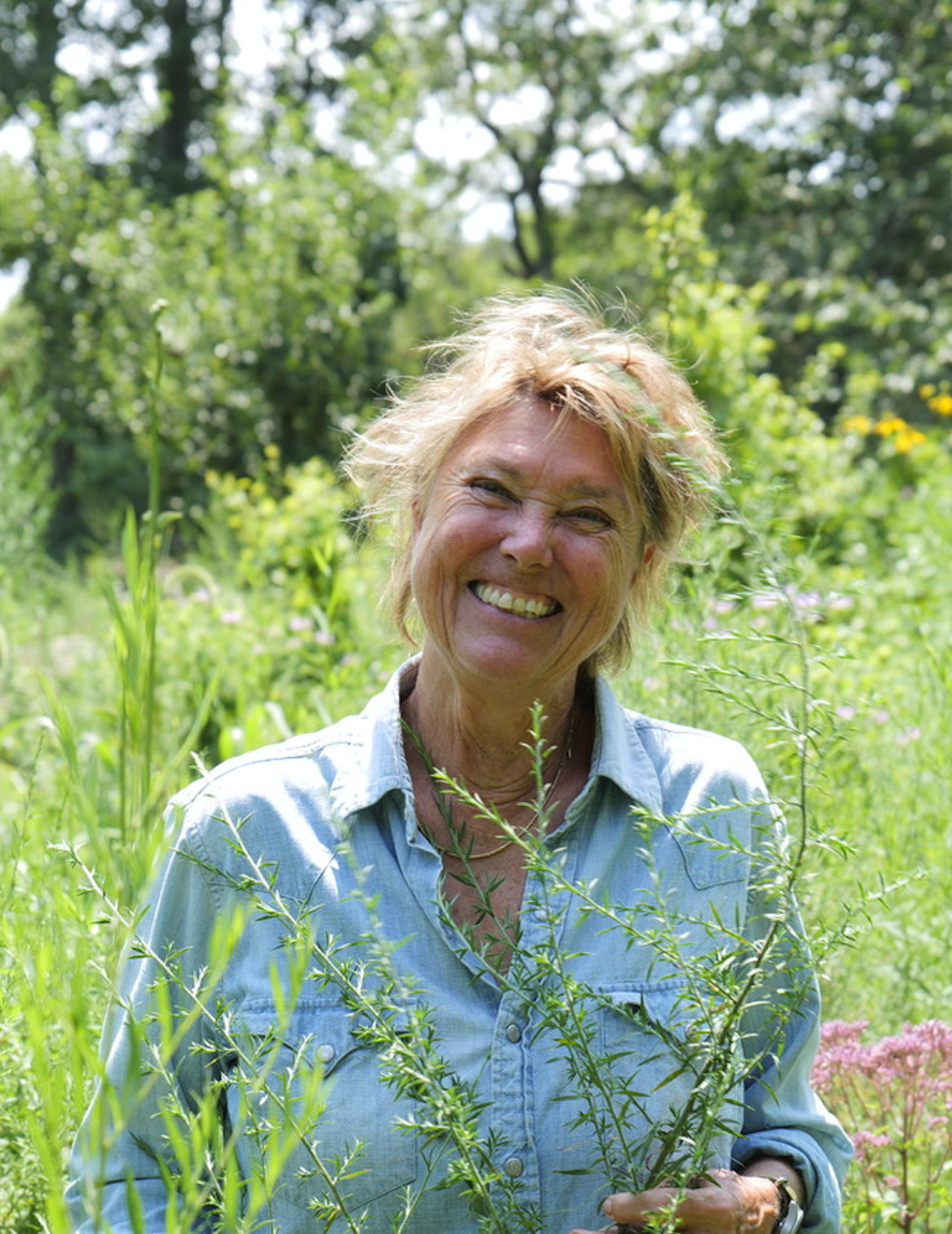 Principal of Edwina von Gal & Co. since 1984, Edwina creates landscapes with a focus on simplicity and sustainability for private and public clients around the world. She has collaborated with noted architects such as Maya Lin, Frank Gehry, Annabelle Selldorf and Toshiko Mori. Her work has been published in most major publications. Her book "Fresh Cuts" won the Quill and Trowel award for garden writing.
In 2008, while designing the park for The Biomuseo Panama, Edwina founded the Azuero Earth Project, promoting native species reforestation on Panama's Azuero Peninsula, perhaps the first of its kind to work without synthetic chemicals. In 2013, she went on to create the Perfect Earth Project, a U.S. nonprofit dedicated to raising consciousness about the dangers of toxic lawn and garden chemicals, and the importance of planting native species, to protect the health of people, their pets, and the planet. Perfect Earth Project educates homeowners and professionals in nature-based landscape management techniques.  In March of 2021 she launched Two Thirds for the Birds, a call to action to landscape and environmental professionals to make all their projects habitat friendly. Her own property, Marshouse, is a laboratory and teaching center for whole and healthy landscape practices.
Edwina has served on boards and committees for a number of horticultural and arts organizations, and is currently on the board of What Is Missing? Maya Lin's artwork about the loss of biodiversity. She has received awards from the New York Horticultural Society, the Institute of Classical Architecture and Art, and Guild Hall's Academy of the Arts Lifetime Achievement Award for the Visual Arts. She received the NY School of Interior Design's Green Design Award and The Isamu Noguchi Award; the Conservator Award from Quogue Wildlife Refuge, and in 2022 the Long House Visionary Award and the Accabonac Protection Committee Friend of the Harbor award. She lectures regularly around the country about nature-based landscape solutions.